87% of retail CFD accounts lose money with this provider. Your capital may be at risk.
There are two fees associated with trading CFDs, Contracts for differences, on IQ Option.
Firstly, a fee is included in the spread between the bid and ask side when you open and close a position.
Secondly, as CFDs are traded at leverage on IQ Option, you pay overnight funding – more details on both of these fees below.

Table of contents
Spread fees
When trading on the financial markets, you'll encounter both an ask side and a bid side.
The ask side is the current lowest price a specific asset is being offered at by a seller.
Likewise, the bid side is the current highest price a buyer is offering for a specific asset.
Most investors use the market-buy function, which instantly fills your position by tapping into the ask side when you buy and into the bid side when you sell.
Because of this dynamic, you usually pay a little more than the latest market price of an asset when you buy and get a little less than the latest market price when you sell an asset.
The difference between the bid and ask side is known as the spread.
The same principle applies when you open or close a CFD position on IQ Option as your order is executed instantly.
On IQ Option, however, the spread is slightly increased by the platform to include their trading fee.
Most other platforms that let you trade CFDs use a similar fee structure when you open or close a leveraged CFD position.
On IQ Option, you can visually see the spread live as well as the level at which your investment will start relative to the latest market price after the spread and fee have been included.
You can see an example of visual representation in the image below.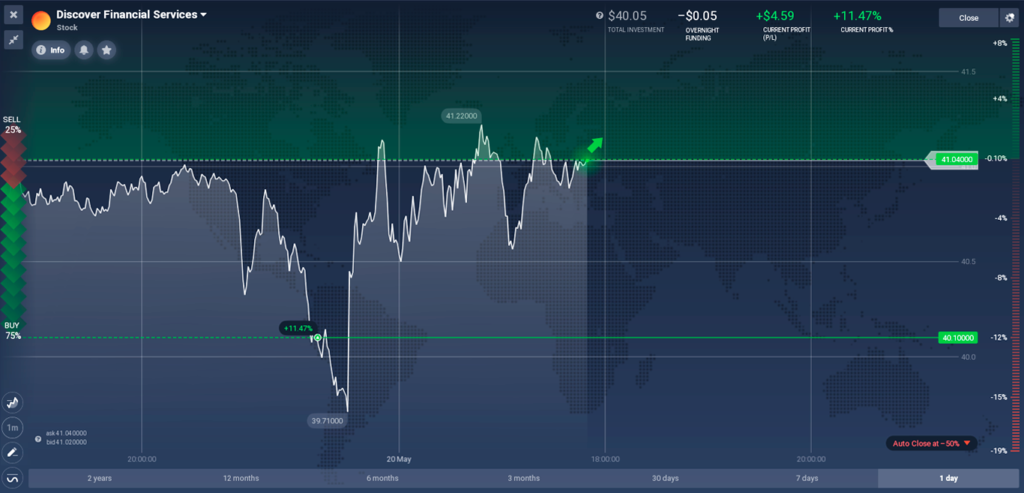 Overnight funding fees
CFDs can be traded at leverage, which means you only have to put in a fraction of the total value of the position.
For example, if you trade an asset at five times leverage, an investment of $10 results in a position worth $50.
The leverage makes your investment rise and fall at a five times amplified rate.
For example, if the asset you've invested $10 into at a five times leverage rises 20%, your position increases 100% (5 times 20%), making you a profit of $10 as your initial investment rose from $10 to $20.
Likewise, if the asset falls 20% in value, your position decreases 100% and you've lost $10.
IQ Option does, however, automatically put a 50% stop-loss on your order, which automatically closes the position if it falls 50% in value.
The leverage is technically achieved through lending, where you lend the difference between the total value of the position when the multiplier has been factored in and the amount you've invested yourself.
The fee for lending is overnight funding fees. The overnight funding fee is usually between 0.01% – 0.05% of the total value of a position per weekday and three times that amount per weekend.
The overnight funding fee can, however, according to IQ Option reach up to 1.7% in extreme cases.
You can see the expected amount you'll be paying in overnight funding fees on a position before you open it by hovering the question mark icon on the confirmation pop up before you open a position.
You do, however, need to have two click buy enabled to get this pop-up.
Here is an example of the expected overnight funding fees on a ~$40 position on Discover Finance Services (DFS) with a five times multiplier.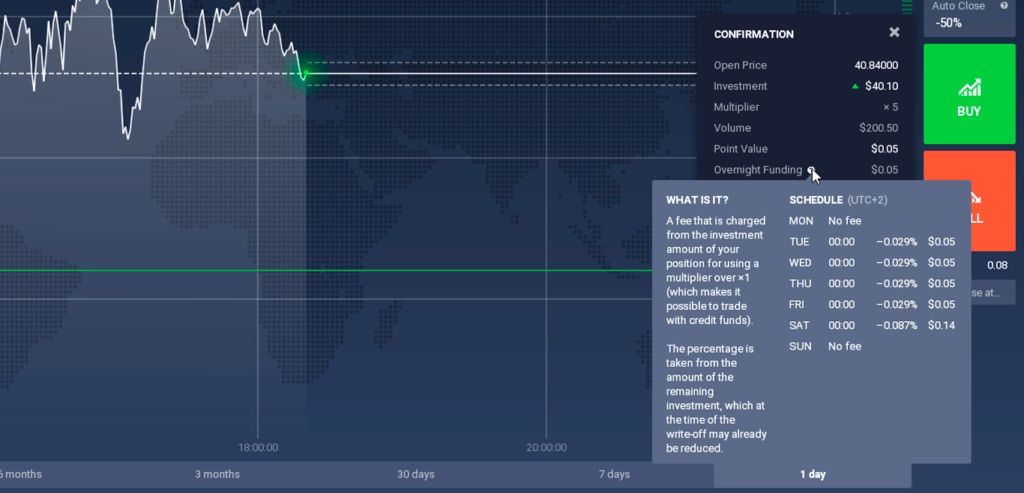 To check the exact amount you've been paying in overnight fees on a position you've had open for more than a day, press 'Commissions Paid' under Total Portfolio.
There are other fees on the IQ Option platform unrelated to CFDs.
These include inactivity fees if you remain absent for ninety days and withdrawal fees if you select the bank transfer option.
PSP withdrawals have no fees.
Disclaimer: Investerfy.com is not a financial advisor. All content on this site is for educational purposes only. Make sure you understand the risk associated with investing and trading.