87% of retail CFD accounts lose money with this provider. Your capital may be at risk.
Forex refers to the global trading of currencies, including shorting and going long currency pairs against each other.
IQ Option offers several forex related products for its users to trade currencies.

This guide covers everything you need to get started trading forex on IQ Option.
Table of contents
How to read currency pairs
Forex refers to the act of buying and selling currencies.
Currencies are traded globally everyday between individual investors like you, banks, financial institutions, and more.
IQ Option utilizes the global currency data, which means you trade against everyone trading currencies worldwide.
When you trade currencies, you trade one currency against another, known as a currency pair.
Currency pairs describe how much of the variable currency you can buy with one of the fixed currency.
For example, if you are trading the euro against the dollar, the currency pair EUR/USD describes how many USD you can purchase with one EUR.
This means that if the currency pair EUR/USD rises from 1.10 to 1.35, you can now purchase 1.35 USD instead of 1.1 USD with just one EUR – the value of the euro has risen against the dollar.
Reading currency pairs can be confusing at first, as many interpret a currency pair like a fraction – EUR/USD – euro divided by dollar – euros per dollar.
This is not what a currency pair describes. It's the opposite.
As mentioned, the first currency is the fixed currency, and the second is the variable currency – Fixed Currency/Variable Currency.
A currency pair describes how many of the variable currency you can purchase with a single of the fixed variable.
You can, for example, as of this writing, purchase 105.68 Japanese Yen with one US Dollar, which as of writing, has the following currency pair: USD/JPY = 105.68.
Forex trading products on IQ Option
On IQ Option, you can trade Forex through two different products – CFDs and Options.
CFDs, contracts for difference, are a financial instrument that follows the price of an underlying asset, in this case, a currency pair.
The advantage of CFDs is that you can trade at leverage, which means the results of your trade will be multiplied.
If you, for example, trade at a 30x leverage, which is the default on IQ Option for Forex trades, and open a buy position on EUR/USD and that currency pair rises 1%, your, your position will rise 30%.
Likewise, a 1% fall of the underlying currency pair will result in your position falling 30%.
Buying or shorting a currency pair works just like buying or shorting any other CFD, be it a stock, ETF, or a commodity.
To buy or short a currency pair, press the plus icon on the main trading window and select Forex.
Here, you can see all the currency pairs you can trade.
As of this writing, you can trade the following currencies on IQ Option:
EUR/USD
AUD/USD
GBP/USD
USD/JPY
EUR/SGD
AUD/JPY
EUR/JPY
USD/CHF
USD/CAD
EUR/GBP
AUD/CAD
GBP/JPY
GBP/AUD
NZD/USD
EUR/AUD
GBP/CAD
EUR/CHF
EUR/NZD
EUR/CAD
EUR/ZAR
USD/TRY
GBP/CHF
CAD/JPY
AUD/NZD
CAD/CHF
USD/MXN
NZD/JPY
USD/SEK
CHF/JPY
NZD/CAD
AUD/CHF
NOK/JPY
USD/NOK
NZD/CHF
USD/RUB
EUR/MXN
USD/CZK
USD/CNH
USD/HUF
GBP/NOK
GBP/ILS
NZD/SGD
SEK/JPY
NOK/SEK
USD/PLN
EUR/HUF
AUD/SEK
AUD/NOK
EUR/NOK
CHF/NOK
AUD/SGD
USD/DKK
USD/THB
CAD/NOK
CAD/PLN
CHF/SGD
EUR/DKK
EUR/SEK
These currency pairs are taken from a European IQ Option account.
Therefore, your account might be able to trade other currency pairs than those listed above, if you don't reside in the EU.
The second way to trade Forex on IQ Option is through options.
You can buy both call and put options, which are called "higher" and "lower" on IQ Option to avoid confusion.
Call options, known as "higher" on IQ Option, allow you to bet on the price of the selected currency pair rising from its current level before the expiration time.
Likewise, put options, known as "lower" on IQ Option, allow you to bet on the price of the selected currency pair falling from its current level before the expiration time.
The more the price moves in the direction you bet on, the more money your trade makes.
If the price of the asset ends up at the same level, or lower if you buy call options (higher), at the expiration time, then your loss is 100%.
Likewise, if you buy a put option (lower), and the price ends up being higher at the expiration time, then your loss is also 100%.
You can see the potential profit and loss on the right side of the trading window when you've selected a forex option.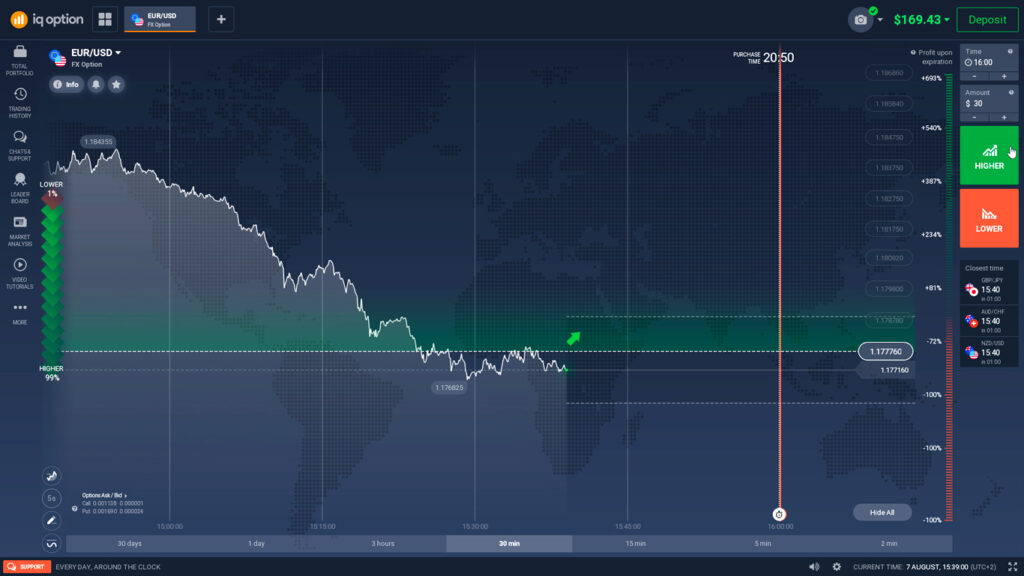 Forex spread
The spread of forex trading instruments refers to the difference between the buy and sell-side of the selected instrument.
When you open a buy position, your position starts at the current buy-level. Likewise, a sell position starts at the current sell-level.
The buy-side is lower than the sell-side. Furthermore, IQ Option might add an additional amount in the forex spread to include a fee.
If you hold positions overnight, you will also be paying overnight funding fees.
You can see the current spread on a given currency pair by navigating to the Forex selecting page under Open New Asset.
The lower the spread, the better for the investor.
How to change expiration time and strike price of FX options
FX Options on IQ Option are by default set to an expiration time of around 30 minutes.
The strike price of FX Options on IQ Option is automatically set to a level just around the current price of the currency pair.
You can, however, change both of these values if you want.
To change the expiration time of an FX Option, click Time in the top right corner and select the desired expiration time.
While the window for changing expiration time is open, you can also change the strike price in the window right next to it.
Disclaimer: Investerfy.com is not a financial advisor. All content on this site is for educational purposes only. Make sure you understand the risk associated with investing and trading.